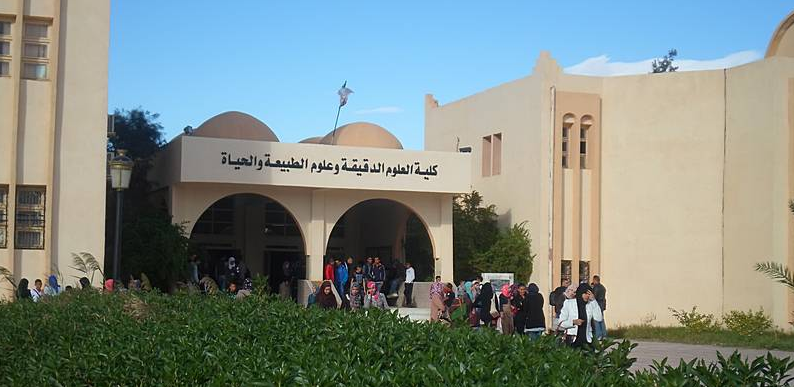 THE FACULTY OF exact sciences natural and life sciences AT MOHAMED KHIDER UNIVERSITY IN BISKRA IS THE RESULT OF THE RESTRUCTURING OF THE FACULTY OF ENGINEERING SCIENCES AND SCIENCES UNDER EXECUTIVE DECREE 90-09 OF 17 FEBRUARY 2009.
GEOGRAPHICALLY, THE FACULTY IS LOCATED ON TWO SITES, THE FIRST AT THE CENTRAL UNIVERSITY, AND THE SECOND ON THE POLE OF EL-HADJEB, IT IS STRUCTURED IN 06 PEDAGOGICAL DEPARTMENTS (MATHEMATICS, COMPUTER SCIENCE, MATERIAL SCIENCES, AGRONOMIC SCIENCES, NATURE AND LIFE SCIENCES, AND EARTH AND UNIVERSE SCIENCES). THESE DEPARTMENTS PROVIDE BACHELOR'S, MASTER'S AND DOCTORATE COURSES WITHIN THE FRAMEWORK OF THE LMD SYSTEM, AS WELL AS ENGINEER AND MAGISTER COURSES IN THE CLASSICAL SYSTEM (ON THE WAY TO EXTINCTION).
THE FACULTY ALSO HAS 34 TEACHING LABORATORIES, 23 COMPUTER ROOMS AND 2 LIBRARIES, IT ALSO CONTAINS NINE RESEARCH LABORATORIES WHICH CONTRIBUTE ON THE ONE HAND TO THE PROMOTION OF SCIENTIFIC RESEARCH AND ON THE OTHER HAND TO THE MANAGEMENT OF THESIS FRAMEWORKS WITHIN THE FRAMEWORK OF ACCREDITED DOCTORAL TRAINING COURSES.